ABOUT J & G ANTIQUES
Welcome and thank you for visiting our website.
It has taken us a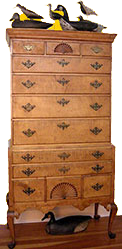 long time to get to this point in business. Starting as collectors in 1965 trying to furnish our first home, antiques soon became a passion. For example, we wanted an "old" highboy and found one at a local show. We eventually exhibited in that show. The same thing occurred with furniture, accessories and decoys.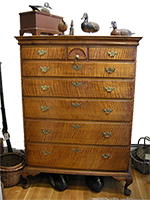 Antiques became and still are a driving force in our lives. As a result, today we deal in antique furniture, vintage decoys, folk art and much more.
We are always looking for new merchandise, so please call if you are interested in selling items.
Our business does not include appraisals. This would be a conflict of interest, if we desire to purchase your items.
Our return policy is simple- if you are not satisfied with your purchase you may return it within 7 days for a full refund.
Looking forward to meeting antique enthusiasts,
Jane and Gerry Enoksen